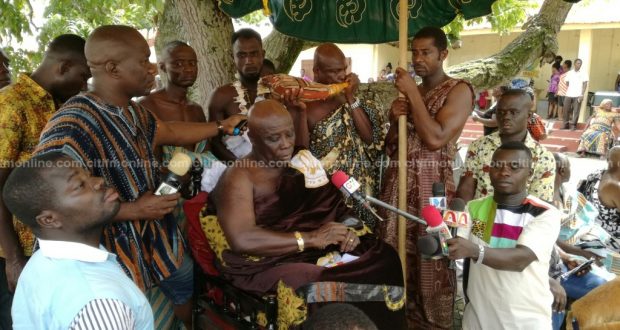 Okyenhene Osagyefo Amoatia Ofori Panyin II, has urged all Ghanaians to have confidence in the Akufo Addo administration to bring an end to the galamsey menace facing this country.
Speaking at a ceremony to mark this year's World Environment Day Celebration at Kyebi in the Eastern Region, the overlord of the Akyem Abuakwa traditional area who was the chairman of the celebration, said he is confident that the president will solve the galamsey problems.
"With a new sheriff in town, the president Nana Akuffo Addo with his minister of Lands and Natural Resources John Peter Amewu with help from the media and the right policies, I believe we will see an end to this galamsey issue, we will win the fight against galamsey"
Okyenhene reiterated his quest to join the fight against galamsey, saying " the damage we have caused to the environment is enough; we will make sure we return the polluted Birim River to its natural course. With measures, policies and good supervision, we will maintain what is left now."
Poverty drove people into galamsey
Okyenhene Amoatia Ofori Panyin also revealed how poverty forced several others into the galamsey business due to survival.
"Before we solve galamsey we should solve the things that go wrong and poverty is one because most of our people are poor, poverty is a disease and in this part of the world it is endemic. It is poverty that has led a lot of kids into galamsey and they have messed up the water so we must try to fight poverty."
EPA should be autonomous
Okyenhene Osagyefo Amoatia Ofori Panyin II, also called on government to make EPA an autonomous body to make it more effective.
"We need to make the EPA autonomous, it has to be resourced to be able to function properly, the EPA, which is a regulator cannot be under the environment ministry which is a policy maker, all regulatory agencies should be autonomous."
As part of the celebration, a host of music stars including Obour, Nero X, Mizz Vee, Sherifa Gunu and others, thrilled the dignitaries and the audience as they performed a new song titled "Atewa Till Eternity" composed to champion the conservation of the Atewa Forest into a National Park Reserve.
–
CREDIT- CITIFMONLINE.COM